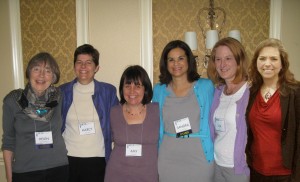 We are a group of friends and colleagues who first gathered at Michigan State University to engage in learning about and teaching math education for equity and social justice. Our group has grown over time to include other colleagues also interested in helping all students learn mathematics. Professionally, we are and have been elementary, middle and high school math teachers, teacher educators, professional developers, researchers, authors and activists engaged in creating a more just world through our work in education. Personally, we are parents, grandparents, & partners, boaters, readers, world travelers, yogis, cooks, photographers, art enthusiasts, pianists, gardeners, and runners. Thanks for joining us in this adventure!
Helen Featherstone
Michigan State University
feather1@msu.edu
Marcy Wood
University of Arizona
mbwood@email.arizona.edu
http://mbwood.faculty.arizona.edu
I was an elementary teacher before questions about how to support all students in learning mathematics took me to graduate school. I met Lisa Jilk and Complex Instruction while completing my doctorate. CI seemed a perfect solution for the questions I had about my underachieving students. I have used CI with students from kindergarten through graduate school and, while it is not a magic bullet, it is a powerful set of tools for helping students learn mathematics. My current interests relative to CI include supporting teachers and teacher educators in taking up CI.
Amy Parks
University of Georgia
amyparks@uga.edu
Sandra Crespo
Michigan State University
crespo@msu.edu
Lisa Jilk
University of Washington, Seattle
jilklisa@uw.edu
I was a high school math teacher in Minnesota and California for 10 years before heading off to graduate school. My tenure at "Railside" High School literally changed my life and set me on personal and professional path that I continue on today. It was there that I learned how to teach with complex instruction alongside a brilliant and thoughtful team of colleagues.  My students at Railside were also my teachers, as they let me take risks with my instructional practices and forgave me when I messed things up. Working with these young people reinforced my belief ten-fold that diversity trumps individuality. Together, we accomplished so much, and I am continually amazed at how they choose to be in the world. Now I spend my days moving between the University of WA and math classrooms in urban middle and high schools as part of a project that I direct. Re-Culturing Math Departments for Excellence and Equity is aimed at creating math departments that collaboratively learn how to improve and sustain their complex instruction practices so that all students are learning more mathematics.
Joy Oslund
University of Michigan, Ann Arbor
Matt Felton (not pictured)
Ohio University
felton@ohio.edu
My work focuses on prospective and practicing teachers' knowledge, conceptions, and beliefs about mathematics education, primarily in grades K-8. In particular, I focus on teachers' views of mathematics as a social and political activity, including the role of diversity in mathematics, using mathematics to investigate issues of social justice, and how the teaching and learning of mathematics sends messages about issues of race, culture, class, gender, and other markers of difference in our society.
James Sheldon (not pictured)
www.jamessheldon.com